What is a Brazilian wax for men?
A Brazilian wax for men, also known as boyzilian or manzilian wax, is a type of hair removal by using hot waxes to remove all hair from the front of the pubic area, between the buttocks, and down the back of the scrotum.
Benefits of Brazilian waxing for men
Males frequently choose Brazilian wax for different reasons, which include:
Long-lasting results: Brazilian waxes remove hair from the root, so results typically last for 4-6 weeks. This is much longer than other hair removal methods, such as shaving or trimming.
Improved hygiene: Brazilian waxes can remove hair from areas that are prone to sweat and odor, such as the underarms and groin. This can help to keep the skin clean and fresh and reduce the risk of bacterial infections.
Reduced chafing and irritation: Brazilian waxes can remove hair from areas that are prone to chafing and irritation, such as the inner thighs and buttocks. This can help to improve comfort and make physical activities more enjoyable.
Improved body confidence: Brazilian waxes can give men a more confident appearance and make them feel more comfortable in their own skin. This can be especially beneficial for men who are self-conscious about their body hair.
Exfoliation: Brazilian waxes also exfoliate the skin, removing dead skin cells and revealing a brighter, smoother complexion. This can help to improve the appearance of the skin in the pubic area and make it look more youthful.
How painful is a Brazilian wax for men?
The pain level of a Brazilian wax varies from person to person. Some men experience very little pain, while others find it to be more uncomfortable. The pain is typically most intense in sensitive areas, such as the scrotum and perineum. However, most men find that the pain is manageable and subsides quickly.
5 reasons to get a manzilian wax at Waxing House
Unprofessional waxing salons with inadequate techniques and products may cause unnecessary pain during a manzilian wax. Waxing House, with its team of experienced beauticians and high-quality products, ensures a smoother and less painful experience.
Experience the benefits of Waxing House's manzilian wax with these five compelling reasons:
Expert Staff: Waxing House's team of highly trained and experienced professionals will ensure you receive the best possible Brazilian wax experience.
High-quality products: Waxing House exclusively uses 100% Australian hot waxes from Jax Wax Australia, specifically formulated to remove even the thickest and strongest hair, while remaining gentle on sensitive skin.
Hygiene and sanitation: Waxing House prioritizes hygiene and sanitation, using new wooden sticks with no double dipping and bottom paper for each client, followed by proper disposal.
Private Waxing Rooms: Waxing House provides private and comfortable service rooms to ensure your privacy and well-being during your treatment.
Gloves for Safety: Our technicians always wear gloves during manzilian waxes, ensuring a safe and hygienic procedure.
Indulge in the ultimate grooming experience with Waxing House's manzilian wax and discover the difference that expertise and care make.
Making a reservation now!
How much is brazilian wax for men?
| Men's Brazilian wax (Manzilian wax) | COST (VND) |
| --- | --- |
| Brazilian / Manzilian (front and back hole) | 800,000 |
| Manzilian line (depending on situation) | 400,000 – 750,000 |
| Back hole only | 200,000 |
Male brazilian wax price
Our good waxing packages
You can consider to buy our below packages to share with your friends to save the cost: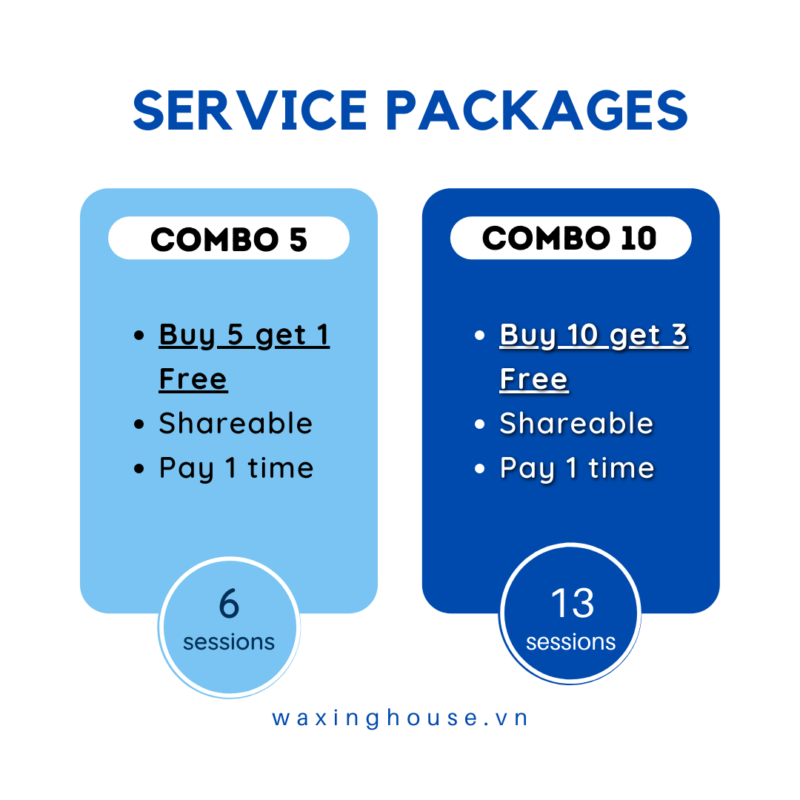 FAQ about manzilian wax
What should I prepare for manzilian wax?
Cleanse your private area before coming.
You can cleanse your intimate area at our toilet if you are coming straight from work.
How long is the hair?
In order to completely remove the hair roots, the hair should be at least 0.5 cm, preferably 0.7-1 cm.
If you have recently shaved, you will need to wait about 2 weeks for the hair to regrow long enough. On the flip-side, if you need a pre-wax trim we are able to do this for you.
How long will manzilian waxing take?
It takes about 40-60 minutes depending on personal situation.
How often should I get manzilian wax?
Most men find they need brazilian wax once a month.
What should not I do after manzilian waxing?
You will need to avoid hot steaming, saunas, hot tubs in 24 hours.
After brazilian waxing, all dead cells are removed, you don't need exfoliation within 7 days. Many places suggest you to use body scrubs for bikini area 3-4 days after wax to prevent ingrown hair, but that's not recommended.
To prevent ingrown hair, you should use after-wax lotion because it contains active ingredients that has anti-bacterial function. Also, it nourishes, safely lighten your sensitive private area.
Get started!
Book your appointment with one of our Waxing House locations in Hanoi or Ho Chi Minh today!
Afraid of pain? Consider to get male Brazilian laser hair removal, please enter HERE.