This post is also available in:
Tiếng Việt
Waxing for men is a popular trend
Men's waxing had not been said much in the past due to the misleading belief that men shouldn't wax. For the past few years, new waxing products and beauty trends have changed those old beauty stereotypes. Men also need waxing to eliminate their body hair for hygiene purposes and a comfortable feeling. Like women, men also want to show their attractive body without hair.
Waxing for men has been a growing trend nowadays. The increasing amount of specialized hair removal products and services for men coming into the beauty market every year proves it. Because of this popular trend, it is completely normal for spas to offer waxing services not only for women, but also for men. Men now can get waxing for any part of the body such as: back, chest, tummy, face, buttock and genital area.
Men's waxing is different from women's waxing
Men's hair really is different from women's hair. Men tend to have stronger and thicker hair growth due to their strong hormones. Additionally, male hair roots are stronger, hair grows differently depending on the body area, and skin can be more sensitive. It's more difficult to properly wax men's hair. During a wax, each part of the body should be treated according to the hair's situation. For example, waxing the legs is not the same as waxing someone's chest or back.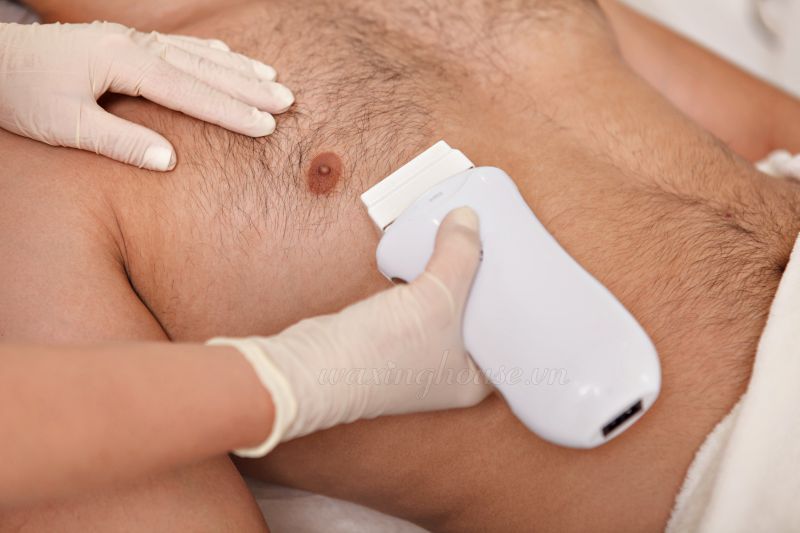 Because men's hair is different, men's waxing is different from women's waxing. Consequently, it is essential to know proper waxing techniques for men if spas want to provide high quality men's waxing services. Well trained beauticians will have the right hair removal techniques for men's waxing.
Why not try men's waxing today!
Pre- and Post-waxing Care
Essentially, men must follow the same pre-waxing rules as women: hairs need to be at least 7-10 millimeter long. Skin should not be exposed much to the sun 1 week before waxing. Men should apply body lotion some days before waxing if their skins are too dry.
After waxing, men will need to avoid:
Hot steaming, saunas, hot tubs in 24 hours
Skin exfoliation within 7 days
Swim in swimming pool with chlorine water in 2-3 days
Because men do not pay much attention to body skin care, male skin tends to be more sensitive than women's. It is better that men use after-wax lotion on the waxed areas to calm down and nourish the skin.
Waxing products for men
As we previously stated, men's hair is different from women's, and men's skin may be more sensitive. Therefore, men need different waxing products that can completely remove their strong hair roots and calm down skin at the same time. It's really important to choose good waxing products for men.
At Waxing House, we use different kinds of waxes for differant body parts and professional after-waxing products. We import and use products of Jax Wax Australia, which especially made for sensitive skin and strong hair roots.
Contact us for consultation!